Our People
Devika Ghosh

Devika is a B.Ed. and Masters in English Literature (Gold Medalist) from Jadavpur University. She is serving the recruiment area for about 10 years now with experience in end to end recruitment process, and CV writing. She is the overall incharge of the resume writing and has helped several professionals and job-seekers in getting the right job.
Write to her : devika@careersatcore.com
Sarita Fernandes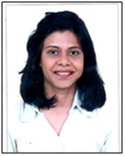 Sarita Fernandes, has been in the field of Human Resources for over a decade. As a professional resume writer, Sarita believes that a resume is the most important document a candidate can own. In her opinion, resumes, when adapted to perfection enables prospective recruiters to have a preliminary silent and non verbal interview with candidates that could speak volumes about his/her potential and professional approach. Having written professional resumes for the Australian, USA, UK and gulf markets, Sarita is adept at writing resumes for various industries, and hierarchical levels, including IT, Medical, Aeronautical, Marine, Educational, Musical, etc and even for unskilled labourers. She intends to lend a new dimension and chart a ground breaking path in resume writing and career enhancement objectives.

Write to her :
sarita.fernandes@careersatcore.com
WHY GET YOUR RESUME WRITTEN AT ALL??
Obvious thought or a question - why get my resume written by someone who does not know me at all?
How can someone write better about me than me???
HERE'S WHY...
Your resume is the first thing about you that a recruiting manager will see .
The hiring manager will see your resume along with a host of other resumes of similar candidates..
The hiring manager is likely to notice the resume that looks the best no matter what the quality of the candidate is. It's just like a nicely tailored shirt or the cover of a book or the packaging of any product. What is inside comes later.what the cover shows makes the person reading it turn the pages.
WHY US
We are a team of professionals who have been in the business of providing jobs in India, Middle East, Bangladesh, Africa and other countries, for decades.With years of experience in helping people get jobs, we provide high quality CV writing services at a realistic and affordable price.
What do you get?
Step by Step guidance
Dedicated CV Writer throughout the Process with Direct Contact via email and over telephone
CV in Microsoft or PDF document
Suggestion on how to attend interviews